---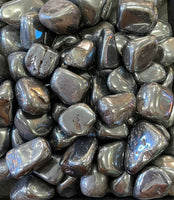 Hematite
Burro Street Trading Post
This listing is for a single (1) Jumbo Hematite Stone.  These are natural Crystal and Gemstones, so each stone will be unique and have variations in natural characteristics such as Size, Shape, Inclusions, and Color.
Hematite has an extremely variable appearance. Its luster can range from earthy to submetallic to metallic. Its color ranges include red to brown and black to gray to silver. It occurs in many forms that include micaceous, massive, crystalline, botryoidal, fibrous, oolitic, and others.
Even though hematite has a highly variable appearance, it always produces a reddish streak. Students in introductory geology courses are usually surprised to see a silver-colored mineral produce a reddish streak.
Hematite is a very grounding and balancing stone, often used to help connect one back to the body.  
It's also very beneficial for the mind, helping to enhance memory and other mental abilities. Hematite has a calming effect, making it a helpful stone for addressing repetitive and unhelpful thought patterns. Working with hematite can help uncover limiting thoughts that may be blocking you so that you can move past them. Hematite can also absorb and transmute negative energy, and it can assist you in seeing the positive side of situations.